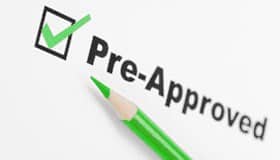 When considering the purchase of a home, many people start with looking at photos of homes online and then either go to open houses or call a real estate agent to show them houses. That would appear to be the correct first steps – but it's not. For most people a house may be what you want, but you're not going to get it without a mortgage. Therefore you should talk to a mortgage professional first.
The Advantages of Getting Pre-Approved
1) You Won't Be Disappointed.
You don't want to have to worry about falling in love with a home that you may not be able to afford. By going to the lender first, you'll know how much house you can buy before you visit them. Additionally, most of the better, experienced realtors will not take you house shopping unless you've been pre-approved by a lender. After all, the realtor wants to know the correct range you qualify for so they can pinpoint which homes to show you.
2) You save significant amounts of time by getting pre-approved.
It takes some borrowers time to gather all the documents needed to begin the loan process. The sooner you as the borrower get your documents to the mortgage company, the sooner they can review them. If there are any issues that need to be addressed, a mistake on your credit report or a lower than expected credit score for example, the sooner it is uncovered, the sooner the mortgage professional can help you resolve it.
3) Pre-Approval Can Be a MAJOR Negotiating Weapon
We are currently in a Seller's Market meaning there is a shortage of homes, and often times there are multiple bids on a home. Sellers prefer to know with certainty that a buyer can get a mortgage. If you have not been fully vetted by a mortgage company, meaning your W-2's and tax returns have been submitted and analyzed by the lender, you will be putting yourself in a weak position should you find a home you want to make an offer on if you haven't even started the process. Don't let this happen to you.
So, choose your mortgage company and get pre-approved.
#MortgageMarvin #ManalapanHomeLoans #HomeLoansinManalapan #FiveStarMortgageProfessional #firsttimehomebuyer #LivinginMonmouthCounty #ZillowApprovedLender#AbsoluteHomeMortgage #Manalapan homes